MODEL LGBTQI+ WORKPLACE POLICY
One of the assets of doing business in Trinidad & Tobago is the diversity of our workforce. It's no secret from the management literature that workplaces that encourage and accommodate worker diversity see the returns in their bottom line. Researchers have also begun to document the costs to national economies of anti-LGBTQI+ discrimination. Not to mention the economic and psychological harms to the workers themselves and their families. Ensuring LGBTQI+ people find an equal place at work is in the interest not just of those workers but many others.
Besides being good for business, making Trinidad and Tobago's workplaces equal is also an ethical question for many, a simple matter of fairness. Some employers and associations seek to champion workplace equality in their fields. Every union in Trinidad & Tobago may have LGBTQI+ members, but most are unaware of their concerns or the measures they could be negotiating for in collective agreements, so both employers and unions leave value on the table. 
In addition to business organisations, non-profits too can use guidance in making the spaces within their organizations LGBTQI+-friendlier. Labour adjudicators and public sector managers and policymakers can also benefit from locally relevant measures for LGBTQI+ workplace inclusion. LGBTQI+ workers in non-unionized workplaces, too, may be unsure of how to frame their needs in ways employers might embrace.
Contact us for more information – and to sign up as a Champion!
The Policy was launched on 30th June 2021! See details below!
DOWNLOAD YOUR COPY TODAY!
CAISO is available to offer support, training and resources for all employers and workplaces that want to adopt/adapt and implement this policy. And we invite your feedback on the policy as it is a living document.
Contact us at [email protected]. | [email protected].
CLICK IMAGE TO DOWNLOAD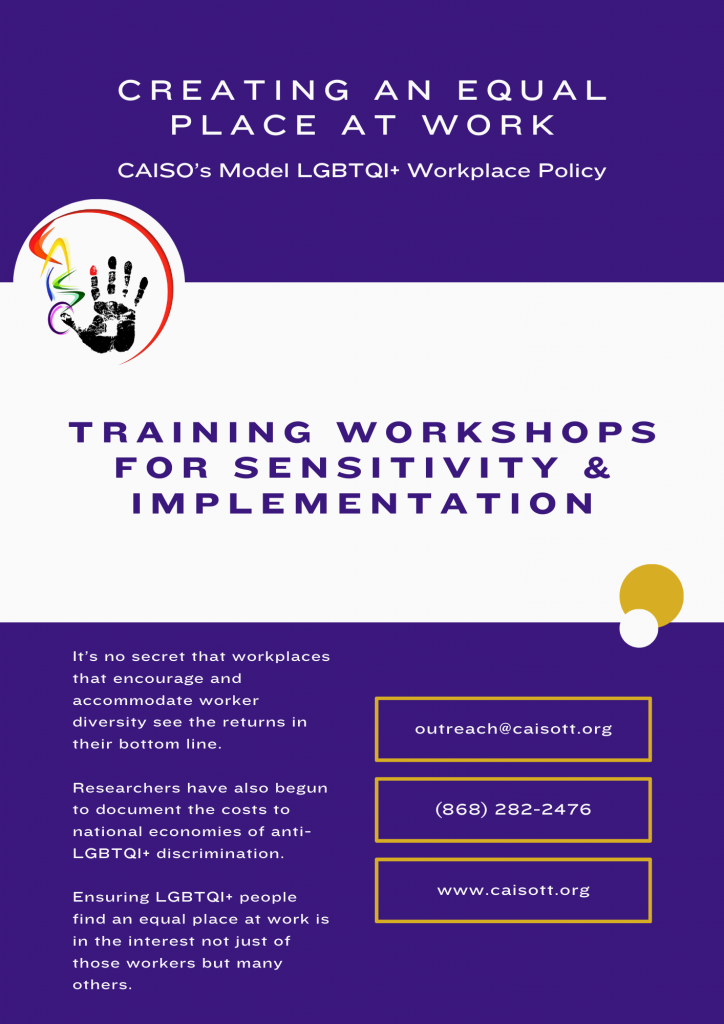 FINDING AN EQUAL WORKPLACE: IMPLEMENTING A WAY FORWARD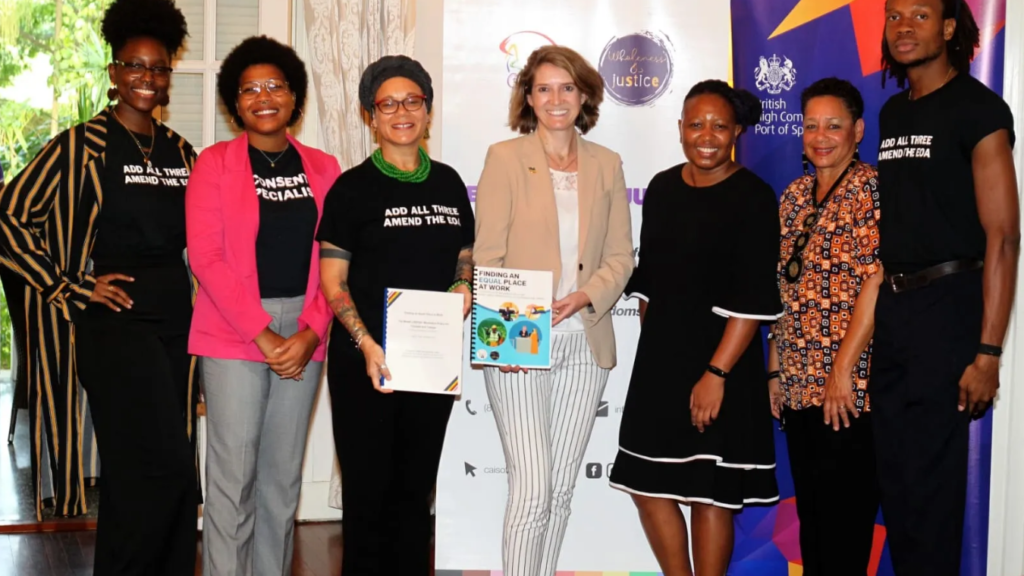 CAISO: Sex and Gender Justice launched "Implementing a Way Forward," which supports our Model LGBTQI+ Workplace Policy through a workshop series and educational materials for organisations. Launched in June 2021, and updated in May 2022, the Model LGBTQI+ Workplace Policy for Trinidad and Tobago was created by CAISO in partnership with the Equal Opportunity Commission, and with funding from the British High Commission to Trinidad and Tobago.

The CAISO Team worked diligently to develop workshops and training materials to support the implementation of the Model Workplace Policy by private sector organisations and civil society. A toolkit and video series support participants and organisations beyond workshop sessions.

The launch celebrated 19 participants from local private sector and civil society organisations, who attended the first round of workshops and outreach efforts and unveils the next steps on our journey to a sexual culture of justice. The workshop content includes an introduction to the Model LGBTQI+ Workplace policy, key concepts and educational materials, and the building blocks for creating an equal workplace.

CAISO's Community Outreach Associate Johannah Rae-Reyes explained:
The goals of the interactive workshops include: 1) to get informed workers talking and thinking about gender and sexuality in the context of the workplace, in healthy ways and oriented towards respect and safety for all; and 2) to introduce management to practical tools for policy implementation in order to create an enabling working environment for all. Both of these are ultimately geared towards ensuring that LGBTQI+ persons in Trinidad and Tobago find an equal place at work.

Author of the "Finding an Equal Place at Work" Toolkit, CAISO's Research Associate Kellog Nkemakolam, said that the toolkit and video series were developed with a view of ensuring that all stakeholders involved in LGBTQI+ inclusion in the workplace have the knowledge and skills to support their efforts in implementing the Model LGBTQI+ Workplace Policy. He added:
The toolkit increases LGBTQI+ sensitivity, and raises awareness of the challenges and barriers LGBTQI+ people face, and how these are reproduced in workplaces. Overall, the workshops and supporting materials provide practical guidance to all persons in the workplace,
on how they can do their part to enable and advance LGBTQI+ inclusion for a socially just workplace.

British High Commissioner Harriet Cross is an early Champion and supporter of the policy. In her view:
Every person should have a fair opportunity in life, no matter who they are or where they come from. The LGBT+ community is not asking for special rights but for the same rights as everyone else. We must all work to eliminate discrimination in the workplace and ensure fair treatment for all. There is evidence that countries which are more inclusive are wealthier and businesses that take diversity in their workforces seriously are more successful. The UK is proud to support LGBT+ equality by funding this important policy and workshop series.

Cheryl Ann Peters, Legal Officer at the Equal Opportunity Commission, policy development partner and workshop participant in the first round of workshops, shared this about her experience:
Participating in CAISO's workshop on LGBTI+ inclusion on the workplace was an insightful and informative experience. The workshop creates the avenue for the educational orientation necessary to gain an understanding of the stigma and discrimination faced by LGBTI+ workers, and addressing this with purposeful and consistent communication within the organisation. I am now more equipped to champion the cause within the EOC and ensure that the workplace policy, already adopted by the EOC, will be effectively implemented.

We salute our supporters and champions and thank them for their leadership and resolute commitment towards achieving diversity and inclusivity in the national private and public sector landscape. CAISO continues to urge the Government of Trinidad and Tobago to amend the Equal Opportunity Act to include protections from discrimination for LGBTQI+ people. CAISO has long called for amendments to the EOA and to "Add All Three" – Age, Health Condition, and LGBTQI+ status, as required categories of protection.

CAISO: Sex and Gender Justice is available for further engagement and training for any organisation that would like to adopt the Model LGBTQI+ Workplace Policy and implement it effectively in their workplace. A specialised team can be made available to assist organisations in the one-on-one development and adoption of the policy and procedures for implementation.
For more information about training and to become a Policy Champion, CLICK HERE or contact CAISO at [email protected].