2021 HARD HEAD AWARD
Jaqueline Burgess wins the 2nd Annual Colin Robinson Hard Head Award!
CAISO: Sex and Gender Justice announced Jacqueline Burgess as the winner of the 2nd Annual Colin Robinson Hard Head Award, at a virtual Award Ceremony on Human Rights Day 10th December held via Zoom and streamed on Facebook Live. The ceremony included tributes to Colin Robinson and a celebration of the five finalists.
Inspired by the fearless ways in which Colin Robinson used creative imagination to speak out against injustice, this award seeks to recognize and honour exceptional leadership in transforming how others see and imagine the world, particularly in the spheres of Transformational Activism, Artistic Boldness and Meaningful Solidarity. The purpose of the annual Award is to support individuals working towards equity and justice for all, whose work connects political advocacy, creativity and coalition building. Recipients receive a commemorative plaque, Judges' Citation and a cash award of TTD 15,000.
The Hard Head Award was launched in 2020 at the joint Bocas Lit Fest/CAISO poetry event, The Treachery in Every Poem, that celebrated the poetry of Colin Robinson. Nadella Oya, founder and director of Createfuture Good – an organisation that serves children and adolescents across the Caribbean – won the Inaugural Award.
2021 Nominations and Selection Process
For the 2021 award, CAISO issued the Call for Nominations across various media platforms on October 1st, 2021, extending the deadline for submission from October 31st to November 14th, 2021. The Hard Head Award Planning Committee (includes three CAISO board members and two CSO representatives) reviewed scoring criteria, selected the external Panel of Judges and shortlisted the nominations, selecting five (5) Finalists. The Judges submitted their decision to the CAISO Board on December 5th.
This year's Panel of Judges comprised: Brendon Alekseii (poet, facilitator, stage director, playwright and activist); Rosamond S. King (author and professor, creative and critical writer and artist); and Sunity Maharaj (journalist and director, Lloyd Best Institute of the Caribbean).
2021 Nominations and Areas of Work Celebrated
A total of 9 nominations was received, recognising and celebrating activism and advocacy across a broad range of human rights and social justice work:
· Environmental Sustainability and Justice
· Indigenous Rights, Justice and Visibility
· Gender and Sexual Justice especially for LGBTQI+ youth
· Labour Rights especially for Domestic Workers and Women
· Healing Arts and Education for Elders and Children
· Gender Based Violence Awareness and Survivor Empowerment
· Policy Advocacy for Anti-Discrimination Policies and Legislation
· Disability Rights and Justice especially for Children
2021 Finalists
Five (5) Finalists, whose activism best espouses the footprints of the trailblazer that was Colin Robinson, were recognised. They are Indigenous activist, Tracy Assing; Feminist activist, Jacqueline Burgess; LGBTQI+ Youth activist, Jeremy Steffan Edwards; Disability rights activist, Laura Pierre Escayg; and Labour rights activist Ida Le Blanc.
2021 Hard Head Award – Judges' Citation
Brendon Alekseii delivered the Judges' Citation at the 2021 Ceremony:
"We thank you for all of your work to improve Trinidad and Tobago, the region, and indeed the world for marginalized groups of all kinds, and we are all eager to see you continue to stubbornly bend the moral arc of our universe towards justice. After all, this is the spirit of the Colin Robinson Hard Head Award – a kind of refusal to take anything less than progress towards equality for marginalized people."
"In addition to this Robinson-esque hard-headedness, finalists were assessed based on artistic boldness and creativity, their work in mobilizing action and engaging in coalition-building, and nominees' visions for future development. And, while it is by no means an easy feat to judge the work of any of these thoughtful advocates, our panel strongly felt that Jacqueline Burgess best exemplified the spirit of the award. Or, to quote the praises of one of my fellow judges, she "is just the definition of hard head."
"Jacqueline Burgess became an activist when activism was synonymous with a dangerous subversion of the status quo. In a life uncompromisingly guided by an innate sense of justice, she never fails to show up when the rights of the disadvantaged are under assault. Unflinchingly and unafraid, she has brought her clear-headed compassion, training as a sociologist, imagination and networks of support to the task of making the world safer and more equitable for all, especially for women and girls."
"At age 74, Jacqui Burgess is undaunted and unstoppable in the quest for equity and justice across a range of issues. Her longstanding activism includes fighting around gender-based violence, climate justice and disability awareness, among other issues. That work has utilized approaches varying from community theatre in education to discovering local applications for global technologies and almost always has involved a willingness to collaborate and lend her voice alongside others. Her vision of justice, as demonstrated in her nomination, is one where no witnessed injustice can go without response, and where all around her are encouraged to speak out for what they consider important. This vision, and Burgess' work to see it realized, stands as an inspiration both for those who know her and future generations of activists for whom this hard-headedness will be a virtue."
CAISO is pleased to administer this annual award and is extremely grateful to the donors whose financial support has ensured funding for this and future years of this initiative. We will work to ensure its sustainability in celebrating and honouring Colin Robinson's praxis in speaking out insistently against injustice while demanding change and transformation and plan to invite nominations for a companion Youth Award in 2022. We also think hosting the Hard Head Award Ceremony on Human Rights Day is a fitting tribute to Colin's spirit.
CAISO salutes the winner, finalists and all nominees of the 2nd Annual Colin Robinson Hard Head Award and looks forward to launching the 2022 Call for Nominations!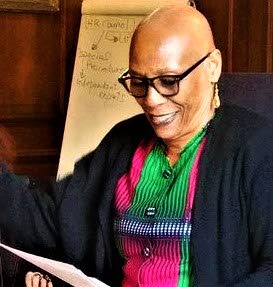 MEDIA COVERAGE
2021 HARD HEAD AWARD CEREMONY