2022 HARD HEAD AWARD
Feminist Youth Activist Ashlee Burnett Wins the 2022 Colin Robinson Hard Head Award!
CAISO: Sex and Gender Justice announced feminist educator, organiser and researcher, Ashlee Burnett as the winner of the 3rd Annual Colin Robinson Hard Head Award, at an in-person and hybrid event on Human Rights Day, 10th December, at the LOFTT Gallery in Woodbrook.
The End-of-Year Celebration and Award Ceremony highlighted the organisation's achievements in 2022 and displayed the work of the art collective North Eleven and five artists: Shaden Alexander, Chinyere Brown, Hannah Grosberg, Angelique V. Nixon and Shalini Seereeram.
Inspired by the fearless ways in which Colin Robinson used creative imagination to speak out against injustice, the Hard Head Award recognises exceptional leadership in transforming how others see and imagine the world, particularly in the spheres of Transformational Activism, Artistic Boldness and Meaningful Solidarity. Its purpose is to support individuals working towards equity and justice for all, whose work connects political advocacy, creativity, and coalition building. Recipients receive a commemorative plaque, Judges' Citation, and cash award of TTD 15,000.
Named for Colin Robinson's poetry collection, You Have You Father Hard Head (Peepal Tree Press, 2016), the award celebrates Caribbean understandings of the phrase, "Hard Head". In 2022, nominations were open to young people aged 18-35, who were engaged in activism for social change, promoting the values of human rights and justice, and who best demonstrate:
Transformative leadership (inspiring others to achieve greater things themselves) and courage in their work/politics;
Artistic boldness and creativity;
Commitment to organising with others on shared issues/concerns and building coalitions to effect social change;
Any of the following attributes: focus and clarity of vision and purpose, relentlessness, and/or resilience.
2022 Nominations and Selection Process
CAISO issued the Call for Nominations across various media platforms, from October 7th to November 14th, 2022. The Award Committee shortlisted five Finalists (from a total of nine nominations received) and the independent Panel of Judges submitted their decision on December 6th.
This year's Panel of Judges comprised: Ryan Assiu (Director, Advisors Next Door); Matthew Chin (Jamaican scholar & writer, Assistant Professor of Women Gender, and Sexuality at the University of Virginia); and Attillah Springer (writer, activist, and Director of Idakeda Group Ltd.).
2022 Nominations and Areas of Work Celebrated
A total of nine nominations were received, recognising, and celebrating activism and advocacy across a broad range of human rights and social justice work:
· Disability Rights and Justice
· Feminist Art Activism
· Feminist Youth Advocacy
· Gender-Transformative Education
· Gender and Sexual Justice
· Gender Based Violence Awareness and Survivor Empowerment
· LGBTQI+ Activism
· Sexual and Reproductive Health and Rights
· Social Entrepreneurship
· Youth and Political Activism.
2022 Finalists
Five (5) Finalists were recognised for activism that best espoused the footprints of the trailblazer that was Colin Robinson. They are:
Safiyyah Acosta – Gender Justice Advocate and Youth Mentor
GBV Awareness and Survivor Empowerment
Sapphire Alexander – Feminist, Youth, and Climate Advocate
Social and Climate Justice | Cyber Activism
Ashlee Burnett – Feminist Educator, Organiser, Researcher
Sexual & Reproductive Health & Rights | Gender Justice
Kelsie Joseph – Feminist Activist and Chalk Artist
Ending Street Harassment & GBV
Amílcar Sanatan – Artist, Academic, and Activist
Youth & Student Development | Urban Planning
2022 Hard Head Award – Judges' Citation
Ryan Assiu delivered the Judges' Citation at the 2022 Ceremony:
"On behalf of the 2022 Hard Head Award Final Judging panel, I have to say that we were impressed and humbled by the transformative work, determination, and courage of all finalists. Amílcar, Ashlee, Kelsie, Safiyyah, and Sapphire – in your own unique ways, we saw glimmers of the activism that Colin aspired and inspired. We congratulate you all for your outstanding achievements to date."
"It was no easy decision selecting a winner. Our debates were extensive, and our scoring differentiated by single-digit point margins – a testament to the brilliance, impact, and accomplishment you each hold. Eventually, we found consensus, and the panel strongly believes that this year's award should go to Ashlee Burnett."
"Ashlee Burnett is a Caribbean educator and activist with eight years of experience creating safe spaces and intergenerational partnerships through spoken word poetry and bottom-up community-based interventions. Her academic achievements, educational work, and aspirations echo Colin's passion for writing and policy activism."
Regarding transformational leadership and impact, the panel considered Ashlee's national, regional, and international achievements at the age of 25: founder of Feminitt Caribbean; a member of the Global Advisory Committee for FRIDA, The Young Feminist Fund; Coordinator of Transform Education – a young feminist coalition hosted by the United Nations Girls' Education Initiative; and first Chairperson of the Caribbean Women in Leadership Trinidad and Tobago National Chapter. To find one's voice, stand your ground, and affect real change must have taken hard-headedness humility and a willingness to listen to others, in order to build solidarity towards a common goal, making Ashlee an exemplar to young persons and the embodiment of the spirit of the Hard Head Award!
Ashlee Burnett shared that receiving the Award gave her "a special kinda fuel!" She continued, "Sometimes we exist in the world of activism and advocacy and can become tired or demotivated when change is slow or even when you're not affirmed." She thanked her mother for "sacrifices made," her mentors for ongoing "sage advice and love," fellow activists, friends, and her partner.
The Judges also singled out two finalists for Honourable Mention: Amílcar Sanatan for mainstreaming gender in social planning and urban development and improvement programmes; and Safiyyah Acosta, for her "tenacity and resilience to carry forward in diverse and treacherous spaces with the aim of improving justice for all."
The Ceremony also featured the two previous Hard Head Award Winners – Nadella Oya (2020) and Jacqui Burgess (2021), who shared words of inspiration with the shortlisted finalists and encouraged them to keep doing their work.
CAISO is pleased to administer the award and ensure that it celebrates and honours our late Director of Imagination. We envision this award being an annual beacon around Human Rights Day for sharing and engaging with fellow leaders and activists across a range of human rights and social justice issues. Three years of the award process confirm the dynamic activism, courage, and commitment to a range of social and environmental justice issues that people are leading across the country. CAISO salutes the winner, finalists, and all nominees of the 3rd Annual Colin Robinson Hard Head Award!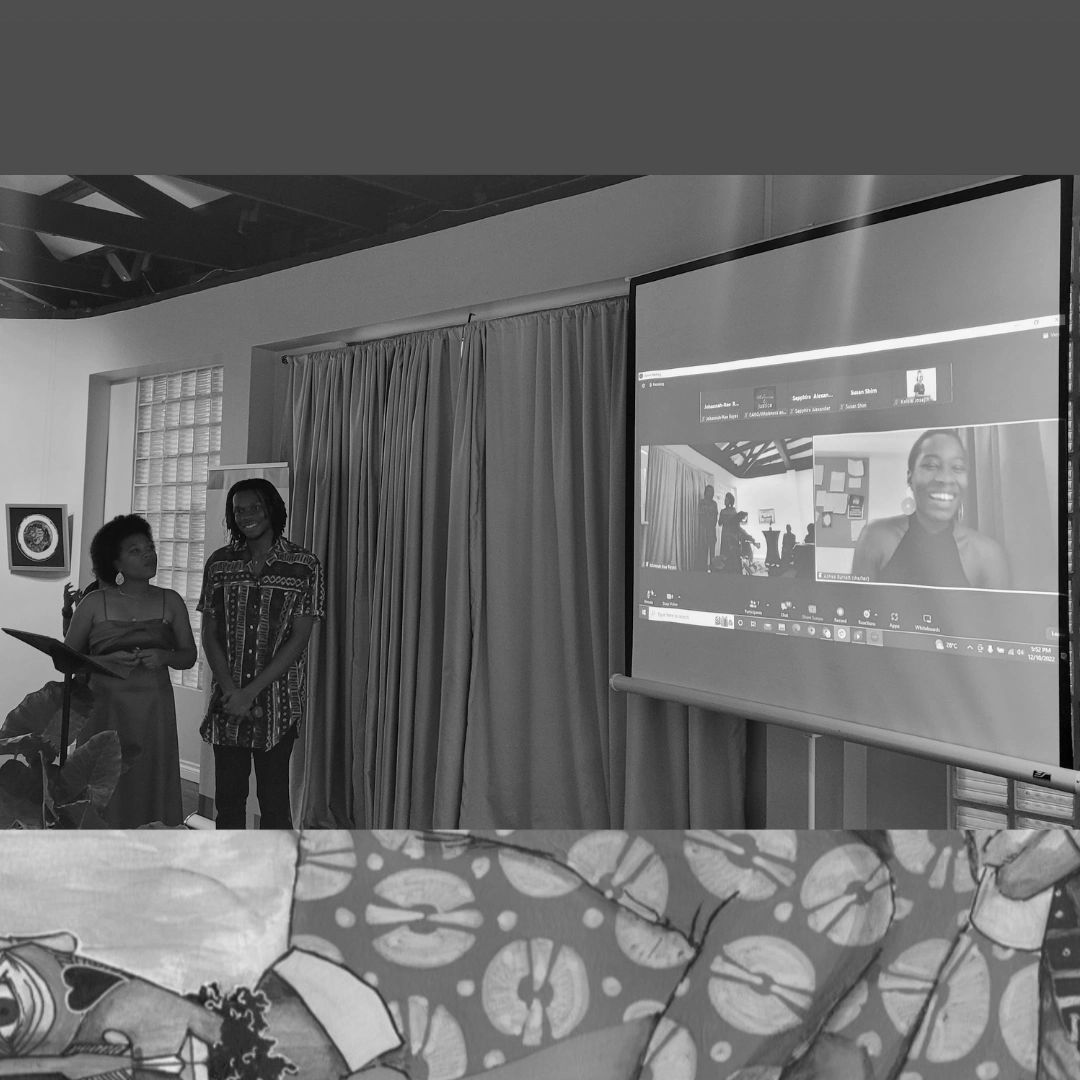 MEDIA COVERAGE
2022 HARD HEAD AWARD CEREMONY