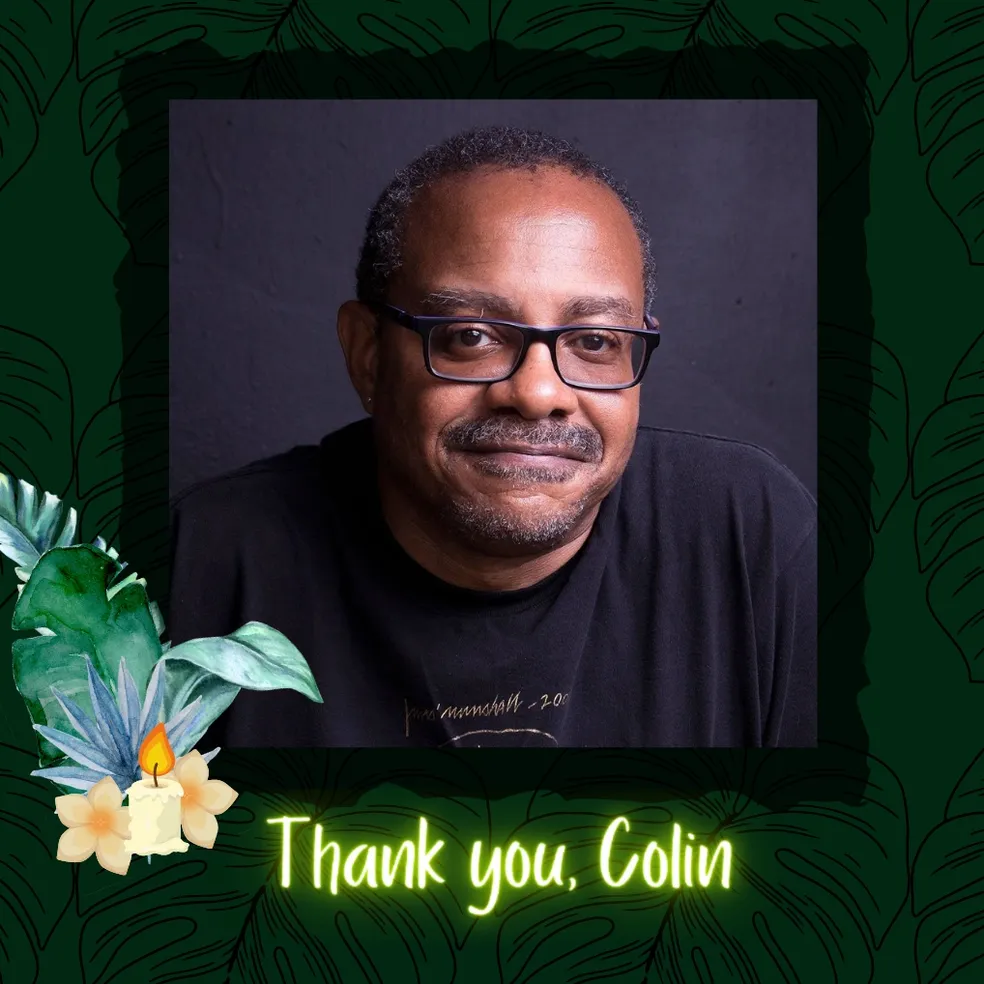 IN MEMORIAM
COLIN ROBINSON (1961-2021)
The CAISO team knows how much Colin meant to so many people around the world. We invite you to share your anecdotes and memories with us so we that can share them here on the website and record them in our CAISO archives.
Showing that we are rooted in our country and culture and linking CAISO to a local tradition of speaking out and holding our leaders accountable as we describe the art, wit and poignancy that characterise the political speech of calypso.
– Colin Robinson, 2012 – The Power of a Name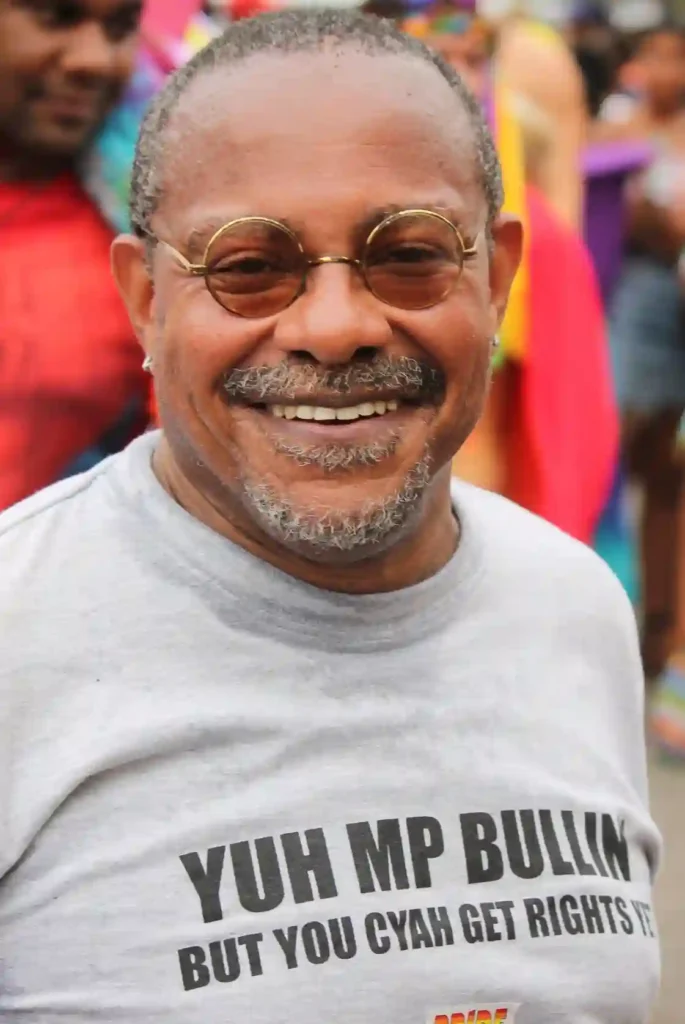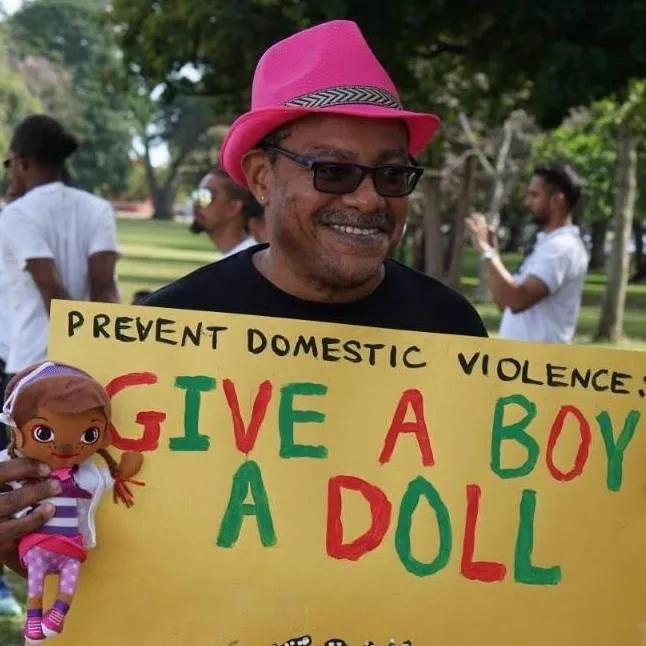 I've grown to understand & own concerns of movements that CAISO's built alliances with & admire the generosity & passion of other leaders. CAISO's given me space to practise imagination. Imagination is as critical to social justice as power.
– Colin Robinson, 2020 – The Work of CAISO

Treachery In Every Poem
"The Treachery in Every Poem" is a video celebration of Colin Robinson's poetry collection You Have You Father Hard Head (Peepal Tree Press 2016).
Writers & Artists offer original work inspired by or talking back to the collection. Some offer tributes and readings of their chosen poem from the collection.
This video was launched on 29 July 2020 through an online event and live conversation with Colin Robinson and Andil Gosine – hosted by Bocas Lit Fest and CAISO: Sex & Gender Justice.
Contributors
WRITERS AND ARTISTS
Colin Robinson – "Lulu" (:45)
Anton Nimblett – Original Poem (3.33)
Amílcar Sanatan – Original Poem "Getting Out" (1.50)
Lesley-Ann Wanliss – Original Poem "Flight" (2.03)
Jacqueline Bishop – Original Poem "Taking Down the Monuments" (4.22)
Richard Fung – Original Film (2.21)
Colin Robinson – "Plural of Me" (.45)
Kenyon Farrow – Tribute (3.21)
Arielle John – Original Poem (4.43)
Pamela Sneed – Original Poem (2.44)
Rosamond S. King – Original Poem "Recursive" (2.42)
Brad Walrond – Original Poem "She Wrote" (2.21)
Monique Roffey – Original Poem (3.07)
Samiya Bashir – Original Video Poem – "Another Thin Filament Pyrometry" (2.19)
Colin Robinson – "Sums" (1.20)
Shani Mootoo – Tribute (4.19)
Thomas Glave – Original Poem (3.40)
Alake Pilgrim – "My Mother who Laughs in Her Sleep" by Colin Robinson (1.59)
Vladimir Lucien – Colin Robinson "Connel, Morning" by Colin Robinson (4.36)
Angelique V. Nixon – Original Poem "Boundaries of Desire" (2.47)
Kyle Hernandez – Original Poem (1.27)
Brendon O'Brien – Original Poem "Lineage" (1.24)
Colin Robinson – "Lineage" (.59)
CREDITS
Bocas Lit Fest & CAISO: Sex and Gender Justice
Curated/Directed by Rosamond S. King & Angelique V. Nixon
Videographer / Edited by Marcus Lee Fook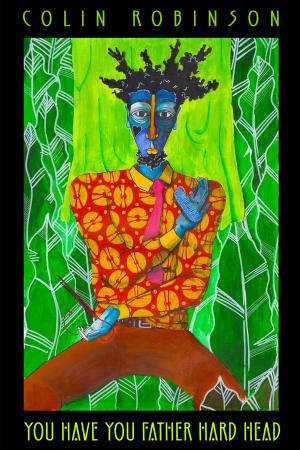 CAISO Mourns the Loss of our Director of Imagination
Media Release | 4 March 2021
CAISO: Sex and Gender Justice is heartbroken to announce that our beautiful, intrepid, and tireless founder, Colin Robinson, passed away on March 4th 2021 in Washington D.C. after a protracted battle with cancer. He was 59 years old. 
Colin's impact on how sexuality, gender, power and justice are articulated, experienced and legislated within the Caribbean was globally felt and recognised. Over the last 40 years, Colin courageously led the conversation around how black and brown people reclaim their queerness in spaces from which they are often shunned. This unfaltering courage led to his co-founding, leading and facilitating several of the most influential LGBTI+ organisations and movements within the Caribbean, namely the Coalition Advocating for the Inclusion of Sexual Orientation (CAISO)(founded in 2009) in Trinidad and Tobago – renamed CAISO: Sex and Gender Justice (in 2016) – and the Caribbean Forum for Liberation & Acceptance of Genders and Sexualities.
Colin dove into community organising, LGBTI+ advocacy, and institution-building while studying in New York, after which he and his peers led critical work in LGBTI+ communities of colour. Colin co-founded the Audre Lorde Project in 1994 and Caribbean Pride in 1997. He also worked closely with several pioneering organisations that sought to make LGBTI+ communities of colour occupy space during those pivotal years in the United States, including at the Center for Gay & Lesbian Studies, Gay Men of African Descent, Gay Men's Health Crisis, New York City Board of Education AIDS Advisory Council and the Rainbow Repertory Theater.
Colin's work was often tied to the written word and the Arts – especially illustrated in his collection of poems You Have You Father Hard Head (Peepal Tree Press, 2016). His poetry has also appeared in Calabash: A Journal of Caribbean Arts & Letters (2003), Caribbean Erotic: Poetry, Prose, & Essays (2011), The Caribbean Writer (2014), Corpus: an HIV Prevention Publication (2006), Moko: Caribbean Arts & Letters (2013), among other anthologies. His writings have also influenced policy and public opinion around issues of gender and human rights, especially through his influential 2012 Commonwealth Opinion "Decolonising Sexual Citizenship" and his newspaper columns in the Trinidad and Tobago Guardian and then the Trinidad and Tobago Newsday.
For more than a decade, Colin collaborated with and co-led civil society organisations in participating in Trinidad and Tobago's first- and second-cycle reviews under the United Nation's Universal Periodic Review procedure. His significant contributions to international human rights monitoring and machinery ensured that the voices of the most underrepresented were amplified and heard. Even within the last year while dealing with his illness, Colin remained committed to securing and protecting our rights, freedoms, and healing through the design and development of CAISO's Wholeness and Justice programme. He recognised the urgent need to expand the access of diverse LGBTI+ Trinbagonians to wholeness, justice, health and human services.
Colin also maintained his fervent belief in the need for a strong and progressive civil society, leading the sector's response to the 2018 Non-Profit Organisations Bill, resulting in significant changes to critical clauses in the final Act for the benefit of all civil society organisations. He continued this belief in civil society as a member of the IDB's NextGen Board where he championed the establishment of a digital shared services hub to increase the access of civil society organisations to the management services that they require to continue their work.
CAISO shares in this enormous loss with the many communities, organisations, and people who Colin collaborated with over his four decades of activism, community building and fierce commitment to human rights. He embodied fighting for justice using creative imagination and instilled in us the importance of collective voice and effort.

CAISO: Sex & Gender Justice
Board of Directors