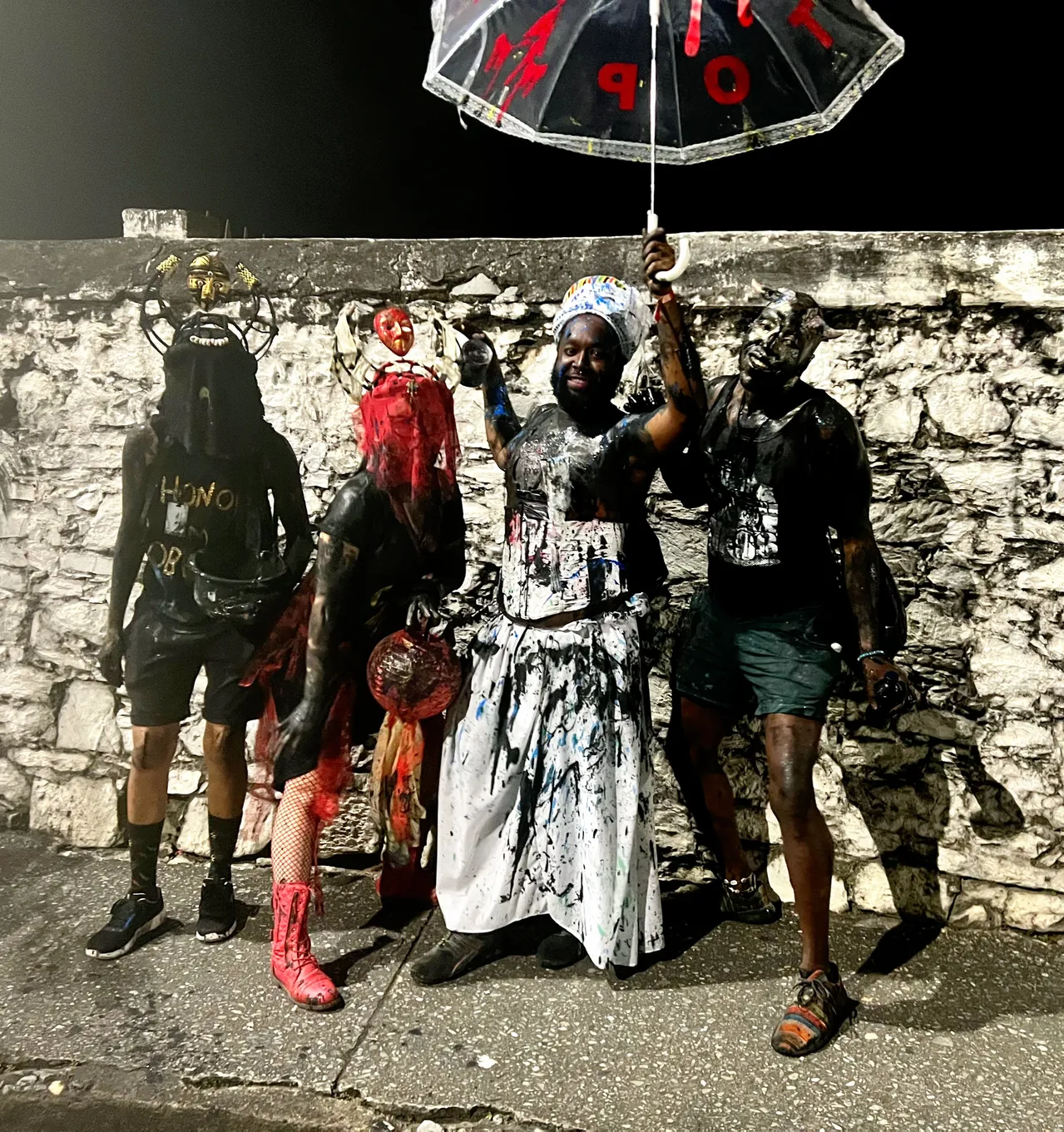 MAS HEALING IS A VISION FOR COMMUNAL CREATION AND HEALING THAT CENTERS PROCESSES OF RESISTANCE, TRUTH, POWER, JUSTICE, AND RADICAL FREEDOM – TO EMBODY
THE TRUE SPIRIT OF JOUVAY.
MAS HEALING
Mas Healing is a space carved out by the CAISO team for healing using creative energy – through a 2-day workshop and communal preparation for Jouvay. The 2023 workshop was designed and facilitated by Angelique Nixon, Shaden Alexander, and Shalini Seereeram.
The workshop facilitates healing practices through mas-making and skill-sharing around self-care and community care. The main goal of Mas Healing is to encourage self-advocacy and empowerment for LGBTQI+ community members. Participants use their own creativity as a tool for self-expression, processing emotions, grounding and balance, and recharging the spirit. And participants are invited to play mas on Jouvay morning as a small group with the mas we create.
We completed two days of workshop (4th & 11th Feb) led by our creative and healing justice team (Angelique, Shaden, Shalini), who offered healing practices and artistic mas-making guidance. We chose horns as our headpieces because they are so symbolic of jouvay and also can be used to represent different aspects of ourselves. We co-created our CAISO Mas Camp space – as all of us worked on our jouvay mas designs – reflecting on jouvay as transformation and a space to release and express ourselves – engaging in communal creation and healing.
We invited CAISO team members, project partners, and stakeholders. These invitees were targeted because of limited space and envisioned as a co-creative and generative space with folks working towards or aligned with CAISO's vision and mission.
This workshop was made possible by Nikoli Attai who supported its co-creation, facilitation, and documentation.
Participant Feedback
"It was a really wonderful to have our culture described in a way that reminded me of its transformative power. It was lovely to be around other queer people and feel comfortable in my skin. Engaging in creative work where I felt knowledgeable and where it was new helped me extend myself. I feel like stretching my capacity in a encouraging environment contributes to healing."
"I liked the collective welcoming art space the most. My expectations were beyond met because the goals of the workshop were executed in even the small details like the affirmations, having refreshments, being supportive of each other, etc."
"I enjoyed every aspect of it. I particularly liked that it was practical and creative."
STAY TUNED FOR MAS HEALING 2024!
CAISO MAS CAMP